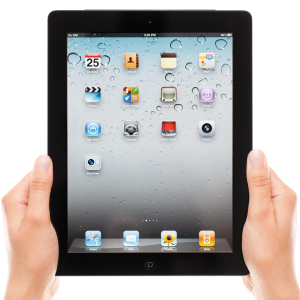 A symptom of autism is verbal and nonverbal communication problems. While the gamut runs from mild to severe, individuals with autism have a difficult time expressing their feelings, forming words, and communicating in general. A traditional approach to help break the communication barrier was for therapists or caregivers to use hand-laminated picture cards, which did not work well outside of that circle. Equipment was also developed to assist an autistic child in communicating, but was only beneficial at therapy because the equipment was bulky, heavy and expensive.
The iPad For Kids Program revolutionized and unlocked the communication barrier for children on the spectrum. The iPad gives a voice to the voiceless. The iPad apps for autism are easy-to-use, and allow for children to put words and symbols together and eventually create sentences using images. They are also extremely mobile. ASDF has donated iPads to individuals and special education classrooms to help nonverbal autistic children with communication and learning.
Your Gift Today can help unlock the communication barrier for children on the spectrum.
With an autism diagnosis and completed application, ASDF's iPad's for Kids program provides an iPad to a qualified child every 3 years.
Applications must be submitted online. Any application via email, mail or phone will not be considered.
Applications Available Year Round.
IPad's for Kids applications are reviewed on a quarterly basis.
Autism Spectrum Disorder Foundation is a small public charity that relies on donations from the general public in order to provide its valuable programs.
iPad Application